Culture - Văn hóa là một trong những chủ đề tương đối rộng và khó nhằn mà các thí sinh rất thường gặp trong bài thi IELTS Writing Task 2. Chủ đề này có rất nhiều khía cạnh có thể được đưa ra để "làm khó" các thí sinh. Nếu muốn chinh phục ban giám khảo và ăn band điểm 7.0+, các sĩ tử cần trau dồi kiến thức thực tế, tham khảo các bài mẫu và luyện tập thật nhiều để có thể khai thác thêm nhiều góc nhìn cho viết bài của mình. Ở bài viết sau đây, JOLO sẽ giúp bạn tổng hợp một số bài mẫu IELTS Writing Task 2 – Topic Culture để các bạn có một kho tài liệu tham khảo phong phú hơn, cùng học ngay bạn nhé! 
Trước hết, để viết được bài IELTS Writing topic Culture, bạn cần có vốn từ vựng đủ sâu rộng về chủ đề này.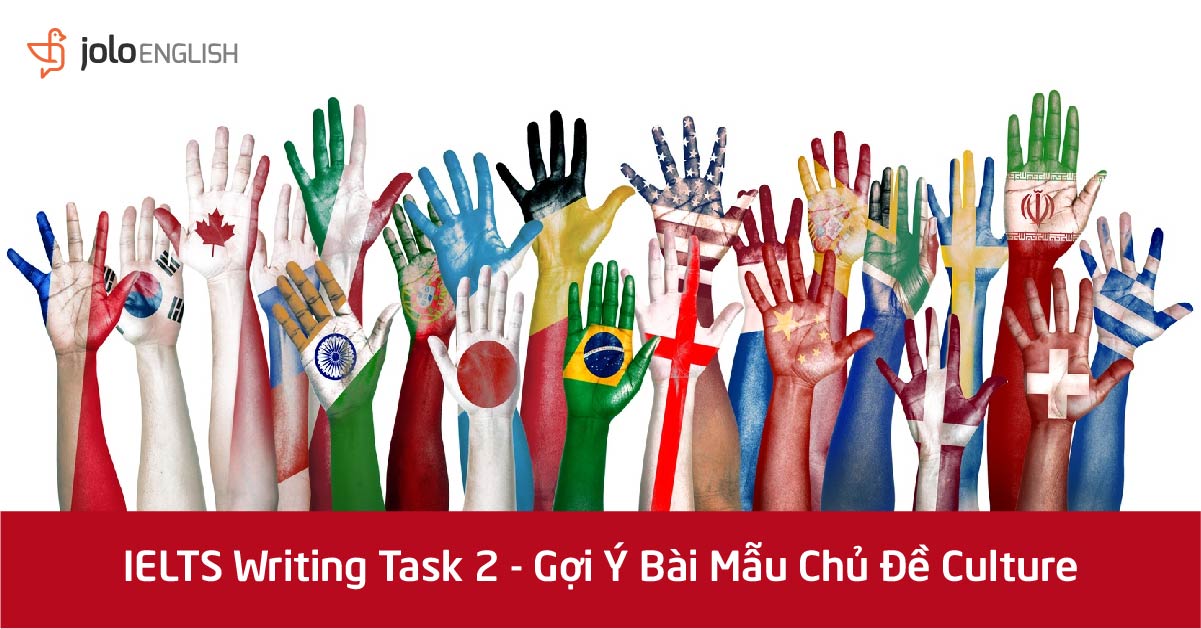 IELTS WRITING TASK 2 - SAMPLE ESSAYS CHỦ ĐỀ CULTURE
1. Some people think young people should follow the traditions of their society. Others think that they should be free to behave as individuals. Discuss both views and give your opinion.
=> Sample Essay:
It is often said that the young generation could benefit greatly from following their social traditions. However, an argument about people's rights to behave freely can also be made against the idea. This essay will discuss the debate and give a concluding view.
On the one hand, those who support traditional customs cite various merits they could bring to young people. Tradition reinforces values such as personal responsibility and work ethics, which form the structure and foundation of our family and society. Therefore, when children and adolescents are taught to adhere to these moral values, they could become more self-disciplined and well-behaved. For instance, Japanese people are renowned worldwide for their courtesy and discipline by acting in accordance with their cultural norms. This serves as a precursor to a thriving and civilized society.
On the other hand, proponents of young people's freedoms point out that they should have their own way of life since some traditions in the form of social biases are detrimental to them, especially females. As a matter of fact, some of these traditions tend to promote gender inequality, which impose outdated ideas on young women. Examples can be found in some countries where young girls are taught that their responsibility is only childbearing and child-rearing. These customs limit their potential, leading to a male-dominated society. And for that reason, the forward-thinking young generation should be the one to freely explore new social norms by abandoning outdated customs. 
In conclusion, it seems advisable that the decision to adhere to social tradition falls on the young generation themselves. As long as they are certain about their personal and traditional values, they would act rationally and properly.
(278 words)
2. Some people think that it is important to have a single language as an international official language. Others think that it will make it difficult to identify countries and cause a loss of culture.
What are your opinions on this?  
=> Sample Essay:
With the advent of globalization, a common language to facilitate trade and communication seems inevitable. Some oppose the development of a single language on the grounds that it may lead to cultural erosion and a loss of local linguistic knowledge. Yet, I am of the opinion that it is possible to use an official international language and still retain one's own language and culture.
Firstly, many countries already use an official language or languages. For example, in India, there are two official languages: Hindi and English. In a country such as India where there are innumerable languages spoken, there is a need for official languages to ensure communication between different sections of the population and the different states. In China, where different dialects are spoken, Mandarin, the official language, enables people from different provinces to comprehend each other.
Secondly, in an age of rampant globalization, there is no doubt that an international language is inevitable. How is an African businessman going to conduct business in China when there are such differences between languages? In this sense, not only is an international language inevitable, but also a necessity for trade, commerce, and economic expansion in the 21st century.
The critics opposing the adoption of an international official language argue that it would lead to a loss of cultural identity. However, the use of an international official language doesn't mean that local languages will die out. For example, English already functions as a kind of unofficial international language but this doesn't mean that people solely converse in English or they neglect their own language. English is used in specific contexts (trade, business, etc) and native languages are used for everyday instruction.
In brief, as the world becomes smaller the need for an official international language seems unavoidable. English has already assumed this role although its status is unofficial. In my view, the use of either an official or unofficial international language is necessary to facilitate communication in a time of rapid globalization.
(330 words)
3. When people move to another country, some of them decide to follow the customs of the new country.
Others prefer to keep their own customs. Compare these two choices.
Which one do you prefer? Support your answer with specific details.   
=> Sample Essay:
People may choose to keep their old traditions from their native country or to accept new ones. Keeping the old customs will help one to overcome the cultural shock and the change of the environment. On the other side, accepting the new traditions will help one to adapt and make new friends with residents. In this essay, I will give different reasons why people decide to follow the customs of the new country or to keep their own customs.
If one is from a country with strong and old traditions, I think it will be rather difficult for him to adapt to the new customs and moreover to reject his own. That is why some people from the same country try to live together and to create their own community where the old traditions are kept. They can not break the customs that were created by their ancestors. For example, some nations are restricted to certain kinds of food by their traditions. So, they do not go to the restaurants unless their traditional food is served there. Some nations according to their customs have to wear certain types of cloth because their religion tells them to do so.
On the other side, if one is from a country with traditions similar to ones of the new country it will be easy for him to adapt and to follow the customs of the new place. He will not feel much difference. Probably, the most difficult part of his relocation will be to accustom to the new climate.
I think that people of the new country are friendlier when they see that foreigner follows their customs. I believe that the traditions of every country deserve respect, especially, when one lives there. In summary, I think that every country has its own beauty and if one wants to find out more about it he will love it.
(314 words)
4. Some people think that a person can never understand the culture of the country unless they speak the language.
Do you agree with this opinion?
=> Sample Essay:
Understanding one's culture is a significant issue nowadays. Making headway with this especially the pressure of modern life, some are convinced that speaking the language is the way to learn the culture. Language is pivotal, but I believed that there are more significant things that a person can bear in mind when adapting to the culture.
Language is important for us to live comfortably, especially in a non-English country. It is very hard to start your life if you can't even understand what they are talking about. For instance, buying at the store whereas some have their own alphabets also and you cannot understand even just single letter. Another example is if you want to ask some directions and you don't know what they are saying because they are using body language too. However, there are many more ways which I think can help people more to know the culture.
Moreover, there are conservative countries where you need to cover your hair as well as your skin and you are required to wear an abaya which is a black long dress along with a black veil-like head garment. In addition, you also need to follow some religious aspects like prayer times which is 4 times daily. All stores are closed during these times. However, there are also things you need to avoid when it comes to socialization. A single lady is not allowed to go put and to have fun with a single man. It is only permitted if you are accompanied by a couple and you are ready to present some proof of relations whenever you came across some police. Pork is not allowed in this country.
In conclusion, language is not the only way to learn a culture but there are more important things like following rules and regulations when it comes to clothing, socializing, religion and food.
(310 words)
5. Cultures around the world today are more similar than they used to be.
What are the reasons?
Do you think it is a positive or negative development?
=> Sample Essay:
In today's society, people find that culture is everywhere becomes standardization. There are several reasons that cause this to happen, and there are both advantages and disadvantages in relation to this trend.
Media is thought to be the main reason that affects culture. Nowadays, most Asian countries can easily access to western culture through media platforms. For example, people are more likely to enjoy watching Hollywood movies rather than movies produced from their own countries. Additionally, tourism and migration are other factors that can have impacts on people's beliefs. Those who have studied or traveled around the world could adapt to different lifestyles from other countries. For instance, people become independent in many ways including living alone and not relying on their families, because they have used to the western lifestyle when they went abroad.
However, it may cause people's concern that exposure to western culture from media could hinder the use of the language of a country. If audiences are constantly watching foreign movies, especially with the language of English, their native language may be abandoned as they speak and read in English predominately. Nevertheless, I believe that it is a positive trend that people could adapt to the other's culture. For example, Asian food such as sushi is widely accepted in many western countries, and they do not only love the food but also enjoy using chopsticks. Therefore, food becomes a bridge that is connected between western and eastern, allowing people to have fun by sharing the other's culture.
In conclusion, various reasons can cause the culture to become more similar, and I believe that the benefit of this development outweighs its drawback.
(275 words)
Trên đây, JOLO đã tổng hợp 5 bài mẫu IELTS Writing Task 2 chủ đề Culture cho các bạn tiện tham khảo và học hỏi. Hãy luyện tập thật nhiều, tham khảo thêm nhiều bài viết hay, đồng thời đừng quên tích lũy kiến thức thực tế, làm giàu vốn hiểu biết cá nhân của mình để làm bài tốt nhất có thể nhé! Chúc các bạn học tốt!
Nếu bạn muốn nâng cao các kỹ năng cần thiết trong bài thi IELTS nhưng chưa biết bắt đầu từ đâu, đừng quên tham khảo các khóa học tại JOLO English tại đây nhé!
--------------------------------------
Tìm hiểu thêm các khóa học tại JOLO English - Hệ thống trung tâm dạy Tiếng Anh uy tín nhất tại Hà Nội và HCM  :
Hệ Thống Trung Tâm Anh Ngữ JOLO:
Hà Nội: 093 618 7791

TP. HCM: (028) 7301 5555

JOLO: Số 4, ngõ 54 Nguyễn Thị Định, Hà Nội

JOLO: Số 27 Trần Đại Nghĩa, Hà Nội

JOLO: Số 67 Thụy Khuê, Hà Nội

JOLO: Số 7, đường số 2, Cư Xá Đô Thành, Q.3, Tp.HCM

JOLO: Số 2, tầng 1, tòa C2, Vinhomes Central Park, Q. Bình Thạnh, TP.HCM

JOLO: S3.020215, Vinhomes Grand Park, P. Long Thạnh Mỹ, TP. Thủ Đức, TP. HCM