Phrasal Verb - Cụm động từ là một phần quan trọng trong giao tiếp Tiếng Anh hàng ngày. Sử dụng Phrasal Verb trong bài thi IELTS Speaking sẽ giúp bạn nói tự nhiên và "chuẩn" bản xứ hơn, chắc chắn sẽ ấn tượng hơn nhiều so với việc sử dụng động từ thông thường. Hôm nay, hãy cùng JOLO học bộ 50 cụm động từ nâng cao giúp bạn chinh phục band điểm Speaking cao ngất sau đây nhé!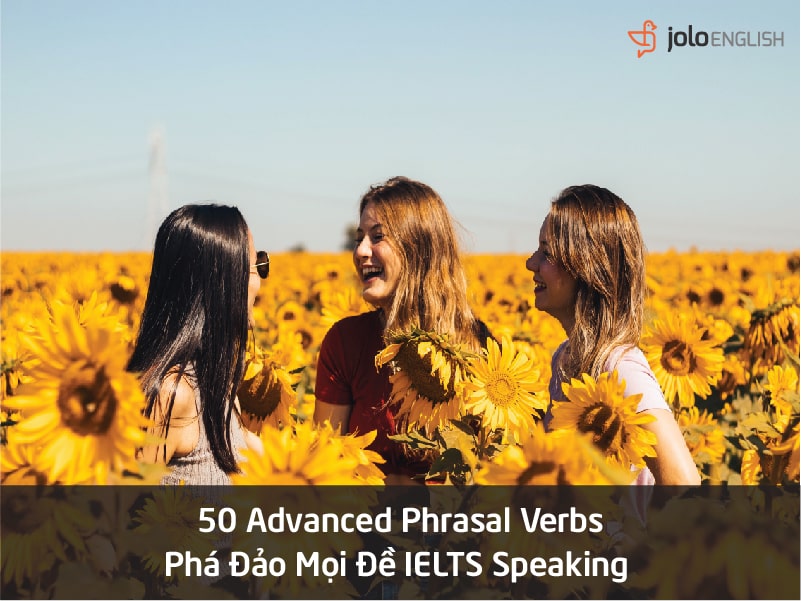 Nắm vững 50 phrasal verbs này và cách sử dụng chúng sẽ giúp bạn ẵm trọn điểm cho tiêu chí Lexical Resource trong bài thi IELTS Speaking đấy!
Act up:

(về trẻ em) cư xử hư đốn, gây rối xung quanh
Ex: Mr. Minh also made headlines back in 2017 for his viral post about teaching his daughter a lesson after she acted up in a restaurant.
Back away:

rút khỏi lời hứa, lời cam kết
Ex: President Trump last month backed away from a plan to ban most flavored e-cigarettes because of concerns it would lead to job losses.
Board up:

che chắn, che đậy
Ex: And the Palace Theatre - where Laurel and Hardy once trod the boards - is now closed and boarded up after a drugs raid by police, towards the end of the 1990s rave scene.
Bargain down:

mặc cả giá xuống
Ex: In a macabre dig at the ignorance regarding the machines' dangers, Barrow tried to bargain down the price by saying "Who knows how long the uranium inside will last?"
Bear down on:

xử lý mạnh mẽ
Ex: We'll bear down on sexism, racism, homophobia and all forms of discrimination wherever they exist in our economy and society.
Bawl out:

cáu giận, mắng mỏ ai vì thất vọng
Ex: When John started bawling out Luca the other night, and rushing him as if he were a tackling dummy, I felt an oddly comforting warmth.
Blow over:

(về chuyện gì) biến mất dần dần
Ex: Mr. Mark agreed that the impeachment push is "not driven by facts" and that the Democrats will move onto the next controversy as soon as this one blows over.
Bog down:

trì trệ, đi vào bế tắc
Ex: EU-backed talks between the two on normalizing relations between the two are bogged down.
Ex: My grandfather was a working class man from the Bronx whose own dyslexia was so profound, he bordered on illiterate.
Ex: The new layout uses the dark-gray curvature of the hotel towers to both highlight Saarinen's sculpture and blot out some of the surrounding mess.
Cling to:

níu giữ lấy điều gì
Ex: His mother was sold at auction, and he clings to his scant memories of her.
Choke off:

ngăn cản điều gì xảy ra
Ex: But Iran is already under acute economic pressure from the existing sanctions, which use the reach of the American financial system to try to choke off Iranian oil exports anywhere in the world.
Chip in:

cùng đóng góp để làm gì
Ex: When she asked if anyone at the restaurant wanted to chip in, the manager's response surprised her.
Crank up:

bật lên, bắt đầu một cái gì
Ex: After a sluggish half that ended with a three-point lead, Atlanta got cranked up in the third quarter.
Buy out:

mua lại cổ phần, tài sản gì đó
Ex: My husband and close friends said that I should press my mother to buy out my half of the house if she wasn't comfortable with my name being on the deed.
Ex: Saugus High School Principal Vincent Ferry choked up as he spoke of the heroism of the staff and students, and the two short lives of Gracie and Dominic.
Blurt out:

tự nhiên thốt lên
Ex: When asked to name his least favourite Tet Holiday dish, Long immediately blurted out "spring rolls".
Bolster up:

cải thiện, củng cố
Ex: The North Korean dictator said scientists and workers would continue manufacturing "more latest weapons and equipment" to "bolster up the nuclear force in quality and quantity".
Button up:

im lặng, sống thầm lặng
Ex: Dr. Nickle was buttoned up in Miami in previous championship attempts but spent this week living his life as usual and seemed to enjoy the pressure packed into race weekend.
Brave out:

dũng cảm đương đầu với
Ex: And at such times she never looked at him - never even pretended to sustain his laughing gaze or brave out her own embarrassment.
Dip into:

đi sâu vào cái gì đó
Ex: He took a look in the mirror in the offseason and did sessions with a life coach while dipping into anger management books.
Divvy up:

chia cho ai một phần của thứ gì
Ex: The current budget battle is over how to divvy up roughly $300 billion in additional spending allowed by a two-year deal lawmakers struck over the summer.
Dredge up:

gợi nhớ lại những kỷ niệm không hay
Ex: The father's impulsive decision to invite the grief-stricken driver into their home dredges up a series of confrontations that test the community's ability to forgive any and all acts if they are properly repented.
Doze off:

ngủ quên, ngủ gật
Ex: The campaign was inspired by the manager of a Burger King in Mexico City, who noticed that some customers would briefly doze off in her restaurant after finishing their meals.
Drive up:

khiến cho giá cả, giá trị của cái gì đó tăng lên
Ex: In a public statement, they said the evidence pointed instead to land grabbers and property speculators, who use fire to clear forest and drive up its commercial value.
Dish up:

cung cấp (sự trợ giúp) cần thiết
Ex: Those he will call to testify are already on record dishing up prodigious plates of multiple hearsay and rank speculation.
Drown out:

tránh khỏi, che lấp điều gì đó
Ex: In a poor neighbourhood near the centre of the Angolan capital, bats wheel in the darkness and loud techno drowns out the traffic on the potholed road.
Eke out:

chắt chiu, tiết kiệm qua ngày
Ex: She's moved 12 miles away from her overbearing mother to rent a small room and eke out a living as a typist for an insurance company.
Fall apart:

(kế hoạch) đổ vỡ, thất bại
Ex: Donald Trump abandoned his plan to host next year's G7 summit at one of his struggling business, but the president still seems pretty annoyed that his scheme fell apart.
Fess up:

thú nhận lỗi lầm
Ex: Joaquin Phoenix hit a parked vehicle and did more than just leave a note, he tracked down the driver to fess up.
Fend for:

lên tiếng bảo vệ điều gì
Ex: Unfortunately, teaching is sometimes a lonely profession where everyone is fending for themselves without the support of their colleagues.
Ex: China was dusted and neatly stacked in a glass-fronted cabinet, the silverware was filed away in the kitchen drawers nearest the sink.
Flake out:

ngưng hoạt động, đi vào trạng thái ngủ
Ex: My network router often flakes out and I get the "There is no internet connection" error screen in Google Chrome.
Flare up:

nổi lên (đặc biệt khi đã chìm được một thời gian)
Ex: The clashes are the latest flare up in Hong Kong, and follow six months of street protests.
Ex: It will no longer be good enough for politicians to fob off voters with the idea that globalisation is an unstoppable force of nature against which they are powerless.
Fork out:

dành một khoản tiền cho cái gì
Ex: On top of the day-to-day spending, parents reported forking out $10 on redecorating, buying new furniture and upgrading their wifi to accommodate returning offspring.
Flash back:

hồi tưởng lại, nhớ lại
Ex: In Los Angeles, Jimmy Kimmel briefly flashed back 50 years, to 29 October 1969, when, just seven miles from his studio, the first internet message was sent.
Fork over:

dành cho ai cái gì trái với ý muốn của mình
Ex: Foreign governments expressed little interest in forking over $20 a square foot for exhibit space.
Frown on:

nhìn nhận một cách không bằng lòng
Ex: Spitting is not only frowned on in hockey - it's an across-the-board taboo in all of sports.
Flip out:

phản ứng với nhiều cảm xúc hoặc lên cơn tức giận
Ex: However, he flips out when it's time to do anything new, especially something that involves new people.
Freeze out:

ghẻ lạnh, gạt ai đó ra khỏi điều gì
Ex: Taylor Swift did better this year, with four nominations - but she's still frozen out of the best album category, which she was widely predicted to walk away with.
Fritter away:

tiêu tốn tiền của vào những điều không đáng có
Ex: While allies like Venezuela's Hugo Chávez frittered away cash on unsustainable projects, Morales managed to turn Latin America's poorest country into its fastest growing.
Gear up:

chuẩn bị sẵn sàng cho việc gì
Ex: Last year, as he was gearing up for a presidential bid, a Republican group filed a complaint with the Colorado Ethics Commision over Hickenlooper's use of private planes as governor.
Gloss over:

che đậy điều gì
Ex: Denfeld summonses the lives of abandoned girls in frank, matter-of-fact detail, never glossing over the filth or violence or the myriad ways in which society lets them down.
Hammer out:

bàn tán sôi nổi để đạt được mục tiêu
Ex: "They recognize that there's going to be some short-term difficulties as we try and hammer out these agreements, to get fair trade with China", Mulvaney said.
Head up:

dẫn đầu một tổ chức, công việc nào đó
Ex: The Walking Dead movie last year at the end of The Walking Dead's 9th season, we learnt that Andrew Lincoln will head up a trilogy of films about his character, Rick Grimes.
Hash out:

bàn bạc, tranh luận về chuyện gì
Ex: We hashed out the differences between Northern and Southern Thanksgivings, the relative merits of yams and sweet potatoes, the mysteries of bean pie and mincemeat.
Gnaw at

: trở nên trầm trọng, tồi tệ hơn
Ex: Brana felt pain gnawing at his empty stomach three days after eating his last meal, pasta.
Ginger up:

khuấy động hoạt động gì đó
Ex: To ginger up small-business banking, RBS, the market leader, must cede ground and money to competitors as part of the price, agreed on with the European Commision, of its rescue by the government in 2009.
Gussy up:

diện quần áo, trang trí cái gì lên cho đẹp
Ex: Given the unpopular but nevertheless true fact that no one really cares what you look like because they're thinking only about themselves, the person you really need to gussy up for every day is you.
Nắm trong tay bộ phrasal verbs nâng cao này, cứ tự tin đi thi chẳng cần lo sợ nữa bạn nha. Chúc các bạn đạt kết quả cao trong kỳ thi IELTS sắp tới!
-----------------------------------------
Tìm hiểu thêm các khóa học tại GLN / JOLO English - Hệ Thống Trung Tiếng Anh và Luyện Thi IELTS chất lượng tại Hà Nội và HCM :
Hệ Thống Trung Tâm Anh Ngữ GLN / JOLO:
Hà Nội: (024) 6652 6525

TP. HCM: (028) 7301 5555

JOLO: Số 4, ngõ 54 Nguyễn Thị Định, Hà Nội

JOLO: Số 27 Trần Đại Nghĩa, Hà Nội

JOLO: Biệt thự B8, ngõ 128 Thụy Khuê, Hà Nội

JOLO: Số 7, đường số 2, Cư Xá Đô Thành, Q.3, Tp.HCM

JOLO: Số 2, tầng 1, tòa C2, Vinhomes Central Park, Q. Bình Thạnh, TP.HCM

GLN: Tầng 1 & 12, Tòa nhà Handico Phạm Hùng, Mễ Trì, Từ Liêm, Hà Nội

GLN: Tầng 1 & 8, Tòa nhà Coalimex 33 Tràng Thi, Hoàn Kiếm, Hà Nội