Một điều thú vị của kì thi IELTS Speaking đó là sẽ không bao giờ thiếu chủ đề độc, dị và gây shock với các thí sinh. Khi không có sự chuẩn bị chu đáo, rất nhiều bạn rơi vào tình trạng bối rối, hoảng loạn vì không biết phải nói gì đây nhỉ? Ở bài viết hôm nay, JOLO đã tổng hợp lại các câu hỏi và bài mẫu cho 10 topic mới nhất năm 2021 trong bộ đề thi IELTS Speaking Part 1. Cùng tham khảo ngay để có sự chuẩn bị tốt nhất và tự tin bước vào phòng thi nhé!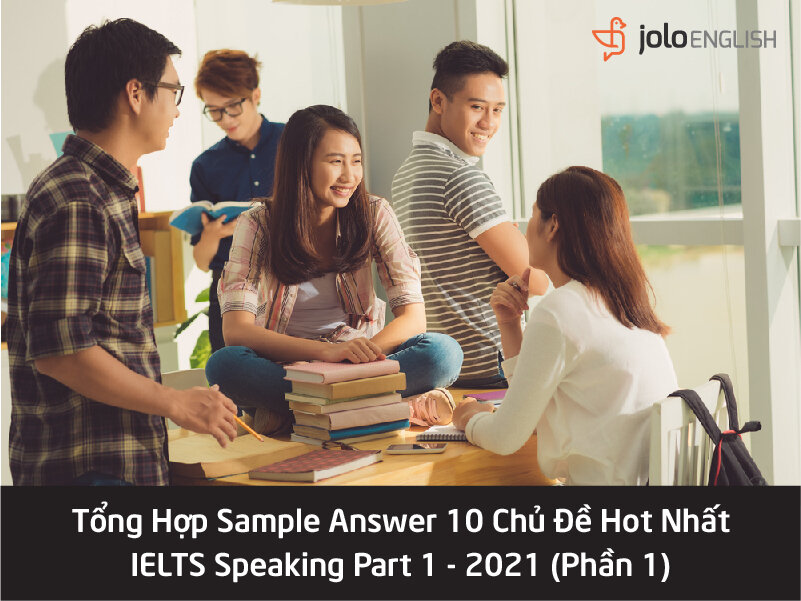 TOPIC 1: FARM/ FARMING
1. Have you visited a farm?
Answer 1: Yes. I have. Last summer when I traveled to Dalat on vacation, I had the chance to visit a hanging strawberry garden there. I was truly impressed by the garden as the growers adopted a technological, hanging hydroponics method in the greenhouse to grow strawberries instead of planting them in the ground to avoid rats, limit pests, and diseases for the strawberries.
Answer 2: Well, I live in a city, so I get less chance to visit a farm. Also, I'm not interested in farms as I find them a little boring. However, if someone takes me to a farm, I think I'll give it a shot. I may have a change of heart then if I get to experience what it's like to be on a farm.
Vocabulary: 
Hydroponics method:

phương pháp canh tác thủy canh
Give it a shot:

thử làm điều gì đó
2. What kind of farm do you like?
Answer 1: Without a doubt, it's the orchard. The smell is pleasing and refreshing. How I wish I could own an orchard, I think it'd make me the happiest person in the world.
Answer 2: I don't know, as I have never thought about it, besides, I've never been to any farm yet. So, it's just impossible for me to pick one kind of farm to answer that question as I have no experience of visiting one.
Vocabulary: 
3. Do you think farming is important?
Answer 1: Yes, I think farming is very important. Farms are an integral part of the food industry, and farms are the source of the world's food supply. Fresh vegetables, fruits, dairy, grains, eggs etcetera all come from farms. Farming also improves a country's economy and creates so many jobs.
Answer 2: Absolutely! Farming plays an important role in our existence. We consume foods every single day that are a product of farming – may it be rice, fruits, meat, eggs, milk, to name a few. It's impossible to survive without the industry of farming.
Vocabulary: 
To be an integral part:

là một phần không thể thiếu

Play an important role:

đóng vai trò quan trọng
4. Did you do farm work when you were young?
Answer 1: Yes, I used to help my grandmother on her farm. I would help her and other farmhands with harvesting wheat crops. I also used to help with making jaggery and taking care of dogs and chickens in her barn.
Answer 2: No, as I grew up in the city, I didn't get any chance to do some farm work or even visit a farm. All of my childhood or teenage days were spent playing in the park with friends or enjoying swimming in a lake or river. I just think it's really hard to do some farm work for a child.
TOPIC 2: TREES
1. Do you like trees?
I'm quite a nature enthusiast, so yes, I do love trees. Of course I acknowledge their beauty and importance in our lives, but that's not all. I believe that there's a close connection between human beings and trees, and I think people have a genuine affection toward all kinds of plants.
Vocabulary:
A nature enthusiast:

người yêu thiên nhiên
Have a genuine affection toward somebody/something:

có tình cảm, ưa thích, yêu mến ai/ cái gì
2. Are there any important trees in your country?
The bamboo tree is widely considered the Vietnamese national tree. It is, in fact, a kind of tree which is very strong and straight from its root to the top. Many believe that this particular tree symbolizes our country and its people, especially during our great wars.
3. Is there a forest near your hometown?
Hanoi lies in the centre of a plain, so there are no forests to be found near the city. In Vietnam, if you want to go into the woods, you'll have to travel all the way to mountainous areas, or at least to plateaus like those in Ha Giang or Moc Chau.
4. Do you like planting trees and why?
I like planting trees because I feel that they have so many uses. They purify the air, reduce flooding, provide us food and shade. Also, they enhance the beauty of our surroundings. Gardening and planting trees also relax me.
5. Would you like to live in a place that has many trees?
Yes, I would like to live in a place with many trees because I feel very happy and relaxed whenever I walk across the area that contains lots of greenery.
6. Where can one find trees (or forests) in your country?
You can easily find all sorts of trees or even evergreens everywhere in Vietnam. They're planted alongside a lot of streets, in parks and zoos, and around most building complexes. However, it's a bit harder if you need to find forests, since these areas are often far away from metropolises and also often more difficult to reach due to the underdeveloped transport facilities nearby.
7. Do you think places with trees attract more visitors than places with few trees?
In my opinion, people tend to be attracted to nature as a whole, and particularly, trees. Since trees provide oxygen, they are a kind of fresh-air- generator, so I think that people feel more refreshed when they are around them. This partly explains the attraction I think, you see, we don't just go to all the attractions just to stare at trees, but we are indeed attracted to leafy areas for our comfort.
8. Do you think people should plant more trees?
I couldn't agree more with that idea. We are so badly in need of trees these days, since a large number of plants in urban areas have been cut down to make way for the construction of new infrastructure. You know, fewer trees in the city means higher levels of air pollution we have to bear with. I'm afraid if we don't take immediate action by planting more trees, it will soon be too late.
TOPIC 3: NEW YEAR
1. How do you celebrate New Year? 
I usually celebrate Lunar New Year by visiting my hometown and spending the entire holiday with my family. We would do activities together like decorating the house, cooking festive foods and going to pagodas. In our culture, this occasion is all about family.
2. Do you like New Year holiday?
When I was little I would feel over the moon when Lunar New Year or Tet was around the corner. Now that I've grown up, I no longer look forward to it with over excitement but I still love it. This is mainly because Tet holiday offers me a rare opportunity to break from my hectic schedule for a while.
Vocabulary:
Break from hectic schedule:

thoát khỏi lịch trình bận rộn
2. What did you do on the last New Year Holiday?
Well, as usual I spent the last two days of the old year cleaning, planting new pots of flowers, decorating our home and preparing foods for our family gathering. On the first day of the Lunar New Year, I escorted my Mom to the local pagoda in the early morning and then the lengthy series of paying a visit to our relatives started. There was nothing special really.
Vocabulary:
Escort:

hộ tống

The lengthy series of paying a visit to relatives:

chuỗi ngày đi thăm hỏi người thân, họ hàng
3. How do people celebrate New Year holiday in Vietnam?
We now tend to focus more on relaxation and leisure activities than on practicing traditions and customs. Of course, they are still an integral part of Tet celebrations but we somehow modify or simplify them to suit our modern lifestyle. For example, after the main family reunion on the first day of Tet, some may choose to travel abroad or to other cities to chill out instead of continuing the endless social gatherings.
Vocabulary:
Suit the modern lifestyle:

phù hợp với lối sống hiện đại

Chill out:

thư giãn
4. Are New Year celebrations important?
Well, they are definitely a distinctive and probably the most intriguing part of different cultures across the globe and should be preserved for the next generations. Besides, the New Year holiday also makes a perfect chance for us to reunite and rejuvenate, which is essential to a healthy and fulfilling life.
Vocabulary:
The intriguing part of different cultures:

một phần hấp dẫn của các nền văn hóa khác nhau
Reunite and rejuvenate:

đoàn tụ và làm trẻ hóa
A healthy and fulfilling life:

một cuộc sống lành mạnh và viên mãn
5. Why do people think New Year is a new beginning?
People think New Year is a new beginning because they feel this is the time to make changes in their lives, do new things, say goodbye to old bad habits, and make new goals and resolutions.
TOPIC 4: BEING HAPPY 
1. Is there anything that makes you feel happy lately?
Well, there's nothing really special that makes me so happy recently, but every day I'm happy because of my family. They are my inspiration and my strength that keeps me going in life. Without them, I don't know what my life would be like.
2. What do you do to stay happy?
I eat healthy foods and I exercise thrice a week. I've been doing that since last year after I read an article on how to live life happily. That article was so inspiring and convincing, I was never a healthy-conscious person before until I came across that life-changing article. It's really true that if you eat healthily, you'll surely be happy and that's what I'm feeling every day.
Vocabulary:
Thrice a week:

ba lần/tuần
A healthy-conscious person:

người có ý thức về sức khỏe và lối sống lành mạnh
3. Can you stay happy all the time?
No, and in my opinion, that's impossible. We are all humans capable of feeling or experiencing different kinds of emotions. Life isn't perfect, there will always be trials that make us feel anxious, exhausted, sad, among others and that's pretty normal. So, I don't really believe in the idea of staying happy all the time.
4. Is it important to be happy?
Yes, it is! Life is short to dwell on things that make you sad, there's more to life than feeling terrible about yourself or hating the world. I think to be happy is a choice, if you choose to be happy you'll have more opportunities in life, however, if you give value to things that don't serve you well, then you'll end up having a miserable life.
TOPIC 5: DECORATION
1. What is the decoration like in your home?
Well, there isn't much to expect, I mean there's nothing really special. For the past few years, I've been practicing minimalism, so there's nothing fancy about my house. In fact, I only have a few pictures of my family and me on the wall and some tree pots. I love those house plants scattered around my house as they look good and have many health benefits. It's pretty ordinary for some people but for a minimalist, it's enough. 
2. What kind of decoration do you prefer?
As I'm in love with minimalistic style for the past few years, I'll stick with it. I truly find peace in not having so many things in the house. Minimalism taught me to appreciate only the essential things, excesses are a form of distraction to attaining peace of mind. I must say, I've truly understood the idea behind, "Less is more".
3. What kind of decoration do you want to have?
Well, I like using something unique for decor my house, like recently I've been thinking of buying some indoor plants. They are the best trendy decor idea and they look fabulous in any corner of the house. There are even air purifying plants also available in the market.
4. Do Vietnamese people like redecorating their home?
I think it depends on the preference of each person. For example, my dad doesn't like the idea of redecorating our house but my mom always wants to buy new stuff to decorate the home.
5. What's your favourite colour when decorating your home?
When decorating my home, my favourite colour is the colour of the sun – yellow as it symbolizes happiness, warmth, energy, and positivity. It brightens everything up and looks amazing. In fact, I have painted one wall in my bedroom room yellow.
(to be continued...)
----------------------------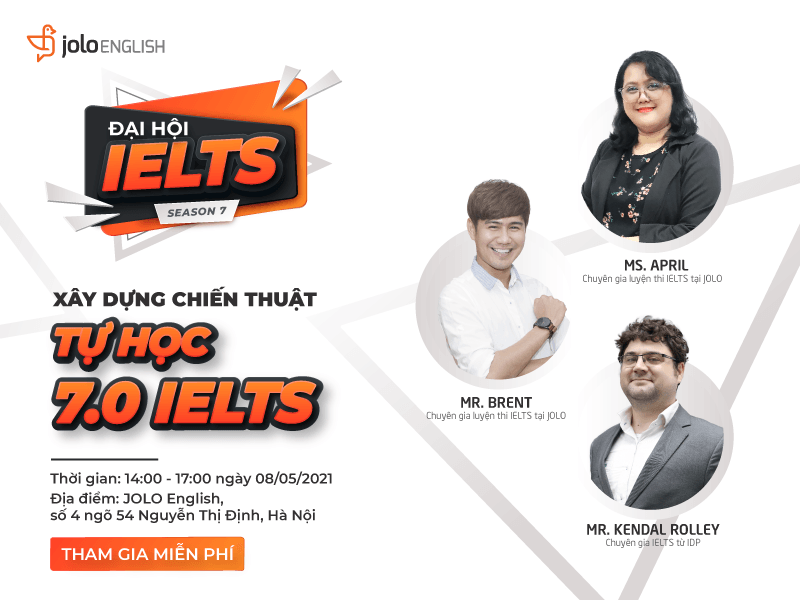 Vào thứ 7 ngày 08/05/2021, JOLO English có tổ chức Đại Hội IELTS season 07: Xây dựng chiến thuật tự học 7.0 IELTS.
Với 12 chủ đề IELTS chuyên sâu bao quát 4 kỹ năng Listening - Reading - Writing - Speaking, đây là cơ hội hiếm có để xây dựng lộ trình tự học tại nhà hiệu quả, thông minh, tiết kiệm thời gian và học hỏi kinh nghiệm từ các chuyên gia nhiều năm kinh nghiệm giảng dạy IELTS . Cụ thể như sau:
4 phòng Luyện thi

 

được giảng dạy bởi 100% chuyên gia Luyện thi IELTS tại JOLO

12 chuyên đề về

 phương pháp tự học 4 kỹ năng dành cho mọi đối tượng từ 

mất gốc

 đến chuẩn bị thi IELTS. Giáo viên sẽ hướng dẫn thực hành ngay tại lớp để bạn có thể lựa chọn phương pháp phù hợp với bản thân.

Giao lưu trực tiếp với chuyên gia IELTS từ IDP

: Học hỏi kinh nghiệm, những tips hữu ích "không được dạy trên lớp" về kỳ thi IELTS

Thi thử Speaking ngay tại chương trình:

 

Nhận điểm và feedback chi tiết từ Examiners chỉ sau 5 phút.

Nhận các phần quà giá trị "khủng" hỗ trợ việc học IELTS:


Học bổng IELTS trị giá 

3.000.000 VNĐ 

Bộ bài giảng Online 2 kỹ năng Speaking - Writing hỗ trợ tự học tại nhà trị giá 

3.799.000 VNĐ

Bộ quà tặng bao gồm sổ, bút, voucher kiểm tra trình độ,... trị giá 

1.000.000 VNĐ
Thông Tin Chương Trình:
Thời gian: 

14:00 - 17:00, Thứ 7, 08/05/2021

Địa điểm: JOLO - 

Số 4 ngõ 54 Nguyễn Thị Định, Cầu Giấy, Hà Nội

Chi phí: 

Hoàn Toàn Miễn Phí

--------------------------------------
Tìm hiểu thêm các khóa học tại JOLO English - Hệ thống trung tâm dạy Tiếng Anh uy tín nhất tại Hà Nội và HCM  :
Hệ Thống Trung Tâm Anh Ngữ JOLO:
Hà Nội: 093 618 7791

TP. HCM: (028) 7301 5555

JOLO: Số 4, ngõ 54 Nguyễn Thị Định, Hà Nội

JOLO: Số 27 Trần Đại Nghĩa, Hà Nội

JOLO: Biệt thự B8, ngõ 128 Thụy Khuê, Hà Nội

JOLO: Số 7, đường số 2, Cư Xá Đô Thành, Q.3, Tp.HCM

JOLO: Số 2, tầng 1, tòa C2, Vinhomes Central Park, Q. Bình Thạnh, TP.HCM