Speaking chưa bao giờ là một kỹ năng "dễ xơi" đối với các thí sinh đang ôn luyện IELTS. Part 1 là phần đơn giản nhất trong bài thi IELTS Speaking. Nếu có sự chuẩn bị tốt, bạn sẽ suôn sẻ hoàn thiện phần Speaking Part 1, đây là một lợi thế cực kỳ lớn để bạn vừa gây ấn tượng ban đầu với giám khảo, vừa thêm phần tự tin hơn để nói 2 Part còn lại của toàn bài. Ở bài viết này, JOLO tổng hợp lại các câu hỏi và bài mẫu cho 10 topic mới nhất năm 2021 trong bộ đề thi IELTS Speaking Part 1. Cùng tham khảo ngay để có sự chuẩn bị tốt nhất và tự tin bước vào phòng thi nhé!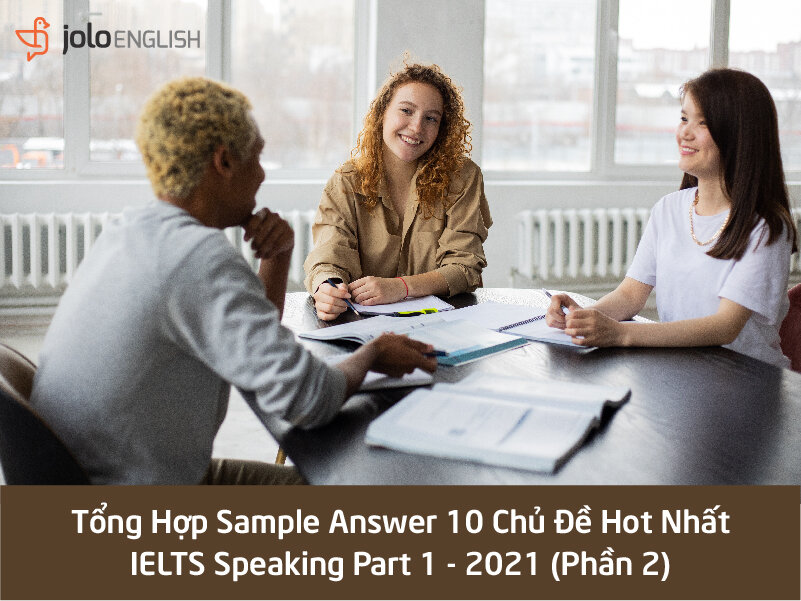 TOPIC 6: STAGES OF LIFE
1. Do you enjoy your current stage of life?
Answer 1: Yes, I am currently a student and thoroughly enjoying this stage of life. Right now, I just have to think about getting into a good college. I have some personal responsibilities but don't have to worry about finances, getting a job, buying a house. I think life becomes busy, and responsibilities become bigger when you start working.
Answer 2: I think we all are so lucky that we have a life, so we should enjoy all stages of life. Presently, I prepare for the entrance exam for that course in which I want to take admission, so I feel very stressed. Despite tension still, I am enjoying the current stage of my life.
2. In what stage of your life were you the happiest?
I think early childhood was the happiest stage of my life. I was carefree, had zero responsibilities, didn't have to worry about studying, and my parents were always there to care for me. I had many neighborhood friends, and I have happy memories of playing all day with them.
3. Which stage of your life do you think is the most important?
I believe this current stage of my life as a high school student because I've learnt to develop my skills such as interpersonal, critical thinking, cooking, driving, among others. Those teenage dramas that I had in the past were definitely over and done. I feel like I've become mature.
4. What's your plan for your next stage of life?
Answer 1: I want to graduate from a good college and find a well-paying satisfactory job. I would like to help my parents financially and also pay off my student loans. I also want to achieve a work-life balance and find time for my hobbies.
Answer 2: Well, every person makes the plan for the next at my life stage. I also plan for my coming life. As I said earlier, I am preparing for the entrance exam. I want to study there because it is the best college where the student gets placement quickly. I make a plan to complete graduation and get a good job so that I can save money for the future and give financial support to my family.
TOPIC 7: MATHS
1. Do you like math?
To be honest, I was not really into Math when I was young because I found it extremely tedious. But when I got into high school, I gradually found myself more comfortable when studying Math and usually got high marks in this subject and this just made me keen on learning Math even more.
2. When did you start learning mathematics? 
I took my first Math lessons in simple arithmetic (phép tính, số học) at around the age of six. It is compulsory in my country to teach all students Math when they join grade school. All children have to learn this complex subject from the first grade. So I probably learnt simple addition at that age.
3. Do you like to use a calculator?
Answer 1: It depends. I quite like exercising my brain with anything that's easy enough, but I use the calculator on my phone for anything tricky. 
Answer 2: Yes, I do love using a calculator to make everything simpler! It allows me to calculate numbers more quickly without having to think much. I just need to input the figures into the calculator, then the right answers are displayed on the screen.
4. Is it necessary for everyone to learn mathematics?
Yes, I think it is. We all need a basic grounding in maths so that we can do daily tasks, like managing our money, working out bills, and so on.
5. Do you think mathematics is important?
Yes, it is very essential in our everyday lives since everything in this world is interconnected with math. From reading the time and dates to counting money and in budgeting, not to mention understanding the prices of goods and how much we need to pay. If we're all ignorant of basic math, we surely can never survive. 
TOPIC 8: NAMES
1. Do you like your name?
Well, it is my pleasure to introduce that my full name is X. I quite like my name, and I won't change it for the world, because it is unique. I don't think there are many people in Vietnam have the same name as me.
2. Does your name have any special meaning?
Most Vietnamese names do, I suppose, and mine is not an exception. My name can be interpreted as a river in Autumn. In my country, anything related to Autumn is considered beautiful and calm, since this season is the most comfortable one out of the four. So, I assume my parents did have somewhat of an expectation when they named me that.
3. Do you think your name is special?
Actually, the name X is fairly common in my country. You would be pretty surprised at how many girls here are named X. But, in a sense, this name is special to me because my parents gave it to me and it will stay with me for my whole life.
4. What do your friends call you?
It really depends. Most of my close friends prefer to call me by my nickname, "Bong". Meanwhile, others just use my first name.
5. Who usually chooses babies' names in your country?
In my country, I believe that fathers are in the position of naming their children. Sometimes they will look through some classical literature to seek the meaningful words for their children. This may derive from the fact that people in my country pay great attention to their names because they believe that suitable names will bring them good fortune. Sometimes they even change their names for their business and family purposes.
6. How are babies given their names in Vietnam? ( or In your country, what do they do when naming children?)
In Vietnam, a newborn baby is a very important event, so naturally names are chosen with great care and hold much significance. Vietnamese people believe that a child's name affects its future, so most people are named after something with a positive image or association.
7. Is it easy for you to remember people's names? 
It's not easy for me to remember names, but I try my best. I like to repeat their name in my head to make sure I don't forget it. I feel it's important to remember people's names in your personal and professional life.
8. How do you remember people's names? 
When I am introduced to someone for the first time, I repeat their name in my head once they have left. Also, I give people my full focus and try to repeat their names during the conversation. I feel if you are distracted while talking to someone, you will probably forget their name.
9. How do you feel when people can't remember your name? 
When people can't remember my name, I feel I am not important to them, and they don't care about me. I also feel that I didn't leave much of an impression when I first met them, and that's why they didn't remember.
TOPIC 9: WINDOW VIEW
1. What scenery can you see from the window of your room?
From the windows of the house that we're currently living in, I can see the garden. We're lucky to live in a house with a very big garden that surrounds the house, so from every window of the house I can see a lot of green. 
2. Does your house have windows?
Of course. It's very important for me that the place we live has windows that can let in a lot of natural light. It doesn't matter if it's a room that we're renting or our own house, it needs to come with big windows. It's healthy for my kids to live in a house with windows.
3. Do you like to watch the scenery from your window? 
Yes, I love to watch the scenery from my window. I especially like looking out of the window while I am having my morning tea. I see our beautiful garden and many birds early in the morning. Seeing nature relaxes me and makes me happy.
4. Do you want to live in a house with beautiful window views?
Yes, I already live in a house with beautiful window views. But in the future, I would love to own a house near a beach as it would have more serene and picturesque views. I want to see and hear the beautiful ocean waves from my window every day.
TOPIC 10: GETTING UP EARLY
1. Do you often get up early in the morning?
Answer 1: I would say that I'm an early riser as I usually get up at 5 a.m. sharp. I often start my day with a decent breakfast and a cup of coffee before going to work. I like getting up early because it allows me to get more work done and feel more energetic.
Answer 2: Not at all, as I'm not a morning person. I usually get up at 12 noon since my job requires me to work until the wee hours (nửa đêm, gần sáng). I know that's tiring for some people but I get used to it. Maybe someday, I might become an early bird if I change my job.
2. What do you usually do when you get up early? 
Answer 1: I start my day by meditating for 30 minutes followed by some physical exercise such as jogging or walking for 45 minutes. I also like to read motivational books and watch podcasts in the morning.
Answer 2: As I said, I don't get up early since I started working, however, if ít's my day off, especially on my second day off, I usually get up at 9 in the morning, which for me is already early. So, what I normally do is prepare my breakfast and do some exercise on our balcony.
3. Do you get up early on weekends? 
Answer 1: Not always, it depends on my physical condition and if I have something important to do. I mean, if I feel like I want to get up early, then I get up without a second thought and if I have an appointment or an important task to finish, I have to get out of bed earlier than usual.
Answer 2: Never, it's because the weekends are my days off. I only get up early on weekdays. Saturdays and Sundays are the only days where I allow myself to be lazy. I just love to stay in bed until 9 or 10 o'clock on weekends.
4. Which morning do you like the best in a week?
I like Sunday morning the best. My father doesn't work on Sunday, and we are all home. My mom cooks a big brunch, and we get to spend the morning together.
5. Do you usually do the same things every morning?
As I'm a creature of habit, I would say yes. I always get up at 6:00 am, have noodles and tea for breakfast, brush my teeth, then brush up (ôn lại nhanh chóng) on what we learned the day before in class to make sure I'm well-prepared. After all of this, I leave for class at 8:30 am. 
6. Do you think breakfast is important?
Absolutely. Many experts state that it is the most important meal of the day. I believe it gives me the fuel I need to tackle my day (bắt đầu ngày mới một cách tràn đầy năng lượng). Moreover, I think it's critical to have a balanced breakfast to make sure I get all the proper nutrients.  I cannot imagine starting my day on an empty stomach.
Như vậy, qua 2 bài viết này, JOLO đã tổng hợp cho bạn 10 topic IELTS Speaking Part 1 hot hit nhất trong năm 2021. Hãy chăm chỉ ôn luyện, học thêm nhiều topic vocabulary để bài Nói ăn điểm nhất có thể nhé. Chúc các bạn ôn tập tốt!
Nếu bạn muốn nâng cao các kỹ năng cần thiết trong bài thi IELTS nhưng chưa biết bắt đầu từ đâu, đừng quên tham khảo các khóa học tại JOLO English tại đây nhé!
--------------------------------------
Tìm hiểu thêm các khóa học tại JOLO English - Hệ thống trung tâm dạy Tiếng Anh uy tín nhất tại Hà Nội và HCM  :
Hệ Thống Trung Tâm Anh Ngữ JOLO:
Hà Nội: 093 618 7791

TP. HCM: (028) 7301 5555

JOLO: Số 4, ngõ 54 Nguyễn Thị Định, Hà Nội

JOLO: Số 27 Trần Đại Nghĩa, Hà Nội

JOLO: Biệt thự B8, ngõ 128 Thụy Khuê, Hà Nội

JOLO: Số 7, đường số 2, Cư Xá Đô Thành, Q.3, Tp.HCM

JOLO: Số 2, tầng 1, tòa C2, Vinhomes Central Park, Q. Bình Thạnh, TP.HCM

JOLO: S3.020215, Vinhomes Grand Park, P. Long Thạnh Mỹ, TP. Thủ Đức, TP. HCM