Work/Job là một trong những chủ đề mà các sĩ tử gần như chắc chắn sẽ gặp trong 2 kỹ năng Writing và Speaking của bài thi IELTS, đặc biệt là Speaking Part 1 và Writing Task 2. Vì vậy, trong bài viết hôm nay, JOLO đã tổng hợp từ vựng, câu hỏi mẫu và hướng dẫn trả lời cho chủ đề này để giúp bạn xây dựng vốn từ vựng cho kỳ thi IELTS của mình. Hãy cùng tìm hiểu trong bài viết dưới đây nhé!
Học thêm: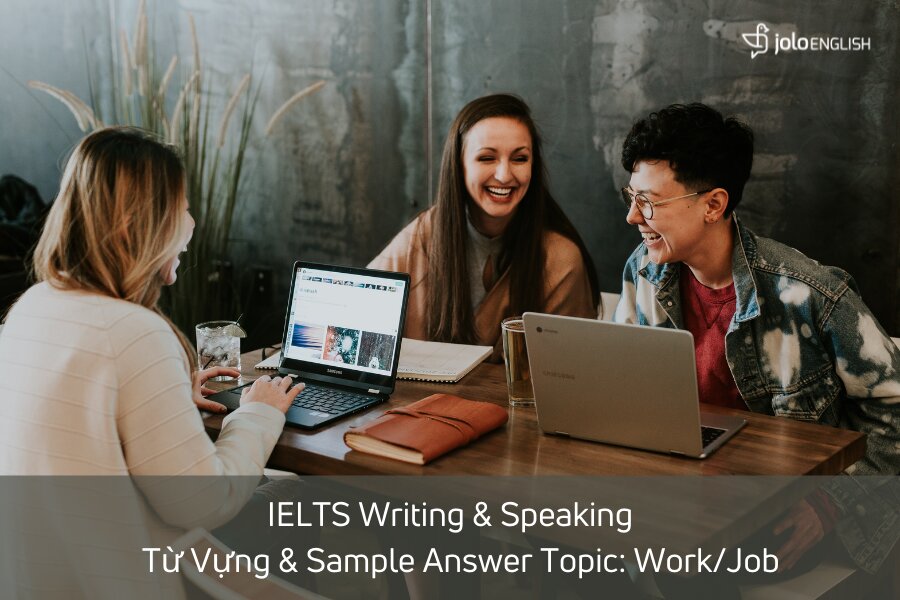 I. TỪ VỰNG, PHRASES VÀ IDIOMS PHỔ BIẾN CHỦ ĐỀ WORK/JOB
To be called for an interview:

được mời tham dự một cuộc phỏng vấn
Example: Although he has been called for an interview, he hasn't got a job yet.
To be your own boss/run your business/be self-employed:

có công việc kinh doanh của riêng mình/ tự điều hành công việc kinh doanh của riêng mình/ tự làm chủ một doanh nghiệp
Example: It has been my dream to be my own boss because I can do everything in my way if I run my own business.
A nine-to-five job:

công việc giờ hành chính
Example: The idea of doing a nine-to-five job is quite arduous for a few people.
A dead-end job:

một công việc không có cơ hội để thăng tiến
Example: Despite having a degree in journalism, he got stuck in a dead-end job at an insurance company.
To be stuck behind a desk:

cảm giác không hài lòng với công việc văn phòng
Example: Working full-time in an office can lead to being stuck behind a desk.
To be/get stuck in a rut: làm một công việc nhàm chán và khó để từ bỏ
Example: I need to change jobs - after 15 years here I feel I'm (stuck) in a rut.
One of the perks of the job:

phúc lợi có được từ công việc
Example: Extra meal is one of the perks of the job, which make employees more satisfied
Part-time: bán thời gian
Job satisfaction:

cảm giác yêu thích về một công việc
Example: Job satisfaction is the most important factor when a person chooses a job.
Manual work:

công việc đòi hỏi hoạt động thể chất, công việc tay chân
Example: Many people have manual work that requires them to work in a dangerous environment.
Temporary work:

công việc tạm thời
Example: Taxi driving is just my temporary work, I am applying for a better job.
Voluntary work:

công việc từ thiện
Example: In my free time, I join in voluntary work to help society.
To be well paid:

kiếm được mức lương tốt, được trả hậu hĩnh
Example: Working in the auditing area will be well paid.
Working conditions:

Điều kiện làm việc (thời gian, tiền lương và các quyền lợi đi kèm với công việc)
Example: Employers should spend more money on improving the working conditions.
To meet a deadline:

hoàn thành công việc theo thời gian đã thỏa thuận
Example: Last week she was really stressed because she had to work too hard to meet the deadlines.
To take early retirement:

nghỉ hưu sớm
Example: Recently, a large number of older workers tend to take early retirement, then they will have more time to travel.
A heavy workload:

khối lượng công việc nặng nhọc
Example: Many workers are complaining about the heavy workload, and they are asking for a higher salary.
A high-powered job:

một công việc quan trọng hoặc có ảnh hưởng lớn
Example: I had a very high-powered senior job in publishing. 
Shift work:

việc làm chia theo ca (ca sáng, chiều, tối)
Example: The company I'm working in currently has different shift work. I can choose either day or night.
Morning/Night Shift:

ca sáng/đêm
Example: Many industries rely heavily on shift work, and millions of people work in jobs that require shift schedules.
Tempting offer: đề nghị hấp dẫn (công việc)
Example: After graduating in economics, I got a very tempting offer from an investment bank and accepted it.
Land a new job: có một công việc mới (thường là công việc tốt) 
Example: After graduating, I did the usual things of putting together my CV & applying for jobs. Luckily, I landed a fantastic new job at a tourism company.
Living wage:

lương sinh hoạt tối thiểu
Example: After doing a job swap, I just got a living wage which didn't commensurate with my experience & ability.
Take up the post:

bắt đầu làm việc
Example: After being laid off, I went back to my old job and took up the post of editor of a leading fashion journal.
Carve a niche for myself:

make a special position for myself
Example: After graduating, I practiced medicine for a number of years in London. I managed to carve a niche for myself as a specialist in dermatology.
Job swap: nhảy việc
Example: I want to take up some fresh challenges so I did a job swap for a year.
Do a job-share:

chia sẻ giờ làm việc trong tuần với một người khác
Example: I decided to go part-time and do a job-share with my friend after returning from maternity leave.
Lay off staff:

sa thải nhân viên
Example: My start-up went through a difficult period and had to lay off staff
Volume of work:

khối lượng công việc
Example: I can't go out tonight. I've got a volume of work to finish.
Earn a good living:

kiếm số tiền khá
Example: I had a substantial volume of work – private students and marking exams – and was able to earn a good living
Fast-track scheme:

hệ thống/ chương trình đào tạo nhanh cho nhân viên và được thăng chức sớm.
Example: This year 29 police took recruits from the fast track scheme.
Move up the ladder:

vươn lên vị trí cao hơn; thăng tiến
Example: I was put on a fast-track scheme and was moving up the ladder fast
Throw a sickie: biện lý do ốm để nghỉ việc
Example: I don't like my job so I throw a sickie from time to time
Get the sack:

bị sa thải, đuổi việc
Example: I want to take one week off from work but I'm afraid of getting sacked.
Desk jockey:

một người chỉ ngồi trên ghế cả ngày làm việc và không năng động 
Example: I am tired of being a desk jockey. I think I need to find a new job.
Annual leave:

nghỉ phép hàng năm
Example: Parents often take their annual leave at the same time as the long school holidays so that they can go on a trip with their kids.
Sick leave:

thời gian cho phép nghỉ khi ốm
Example: Important factors when choosing a job include holiday entitlement, sick leave, and a company pension scheme.
Maternity leave:

nghỉ đẻ (thời gian nghỉ cho phép đối với một phụ nữ sắp sinh)
Example: One of the biggest advantages of being a female employee is getting maternity leave for 6 months with full salary paid.
II. IELTS SPEAKING - CÂU HỎI VÀ SAMPLE ANSWERS CHỦ ĐỀ WORK/JOB
IELTS SPEAKING PART 1
Do you work or study?/Do you work or are you a student?
Well, I have just finished college and currently I'm working as a freelance copywriter. This is what I have loved to do ever since I was a college student. I have a passion for digital marketing, and how blessed I am to have a job that gives me pay cheques and the freedom to create, without having to spend days in an office.
What do you do?
At the moment, I am a student, but I also do some voluntary work at my university, where I can gain a lot of precious experience.
Do you have any career plan yet?
Yes, I have. I would like to be self-employed down the road because I am not fond of a nine-to-five job. I hope that I can run something concerning sales of clothes and accessories.
What do you like about your job?
I am really into my job because of two main reasons. Firstly, it is a well-paid job, so I can earn a great deal of money for a living/ to meet different needs in my life. Secondly, my colleagues are not only friendly but also kind. If I run into difficulties, they will stand by me/give me a hand.
Do you make friends with people at your workplace?
Well, I am quite social so it is very easy for me to make friends with others in my company. If I run into difficulties, they will give me a hand with sound advice.
Did you do a part time job in the past?
I tried my hand at different jobs when I was a student to accumulate more practical experience. For example, my teamwork and communication skills were improved a lot as I worked as a waiter with a team in a restaurant 3 years ago.
What did you want to do when you were a kid?
When I was knee-high to a grasshopper, I dreamt of becoming a tour guide which could help me go to the four corners of the world. In fact, I am trying my best to make my dream come true, so I hope that I will pass the Ielts exam with flying colours as an ielts certificate is a must to become a tour guide.
Do you receive training about your job?
I was wet behind the ears when I began to work for my company, so my boss and colleagues gave me training in terms of how to adapt to my company and keep in touch with my customers who come from different parts of the world.
How do you communicate with others during work?
There are a variety of ways to contact others during work but I usually use emails to keep in touch with them because it is not only cheap but also convenient. For example, I can send an email to my foreign customers at the push of a button without paying much money.
Do you prefer working alone or with a group of people?
I am quite social so I prefer working with teammates rather than working alone. This is because if I run into difficulties my colleagues may give me a hand by sound advice. Moreover, working in a group helps me improve my communication as well as teamwork skills which are all important in anyone's life.
IELTS SPEAKING PART 2
Describe your ideal job.
You should say:
What this job is?

Whether you would need any qualifications?

Whether it would be easy to find work?
And explain why you would enjoy this job in particular.
Sample Answer: 
Everyone has their dream job, and I am no exception. Since I was a little boy, it has been my dream to work as a human resources manager in a multinational company. What makes me want to have the job is that I am fond of interacting with other people, then working in the workplace will give me the chance to deal with human relationships, not to mention that a teacher from my university complimented my leadership skills and he said that I can organise people to work together and lead them to boost the productivity, which is one of the reasons driving me to the job.
Generally, working in the human resources field is likely to be well paid, besides it is also challenging for me to find work in the area because the position will require a high level of qualification and a large amount of experience. Thus, to prepare for my career, I have gained a bachelor in business administration, and I am about to do a master degree in the field, in which I will specialise in human resources management. Apart from my studies, at the time I was doing my bachelor's, I also took part in several voluntary work. By doing that, I have got plenty of valuable experience such as social skills and business knowledge as well. I hope that all of this can help me to make my ideal job easier. 
IELTS SPEAKING PART 3
If there are a limited number of jobs available, who should be given priority, young people or older people with more experience?
I believe that it should be a young worker, Although young people cannot possess a rich source of knowledge like the older people do, they are full of energy, they can motivate other coworkers to work harder, which could have a good effect on the company. Additionally, lately, older workers tend to take early retirement, then the job vacancies are always available for young people.
What are the disadvantages of working for someone else?
The first thing is, people working for someone else will be put under a lot of pressure. For instance, the workers will have a heavy workload and always have to work to meet the deadlines, which is stressful. In addition, working for someone means you will have less time to relax and be with your family.
What are the advantages of having your own business rather than working for someone else?
The benefits of having your own business are that you are able to make the decisions, do whatever you want to do and take responsibility for everything. This also means that you can ultimately be responsible for all of the major agreements.
What do most people consider when finding/accepting a job? 
From my experience talking to my friends, salary and bosses are what people think of when they try to decide on a job offer. Obviously, everyone wants to earn the amount of money that is proportional to their contribution to the company. However, there are cases in which people choose to work for a lower wage if they have supportive bosses , especially for people who are seeking entry level jobs. Having a superior to serve as your mentor can help you to progress in your career more quickly.
What is more important? Job satisfaction or a high salary?  
It really depends on who you're asking. I think people who prefer a higher salary are the ones who are in some sort of debt or have home mortgages. More and more people are buying apartments or houses through mortgage programmes, so I think a lot would prioritise a higher salary and be willing to do jobs that they might not enjoy. On the other hand, there are people, like myself, who think that it's absolutely crucial for a person to do what he or she loves to do. Personally, doing something that I don't like to make money can be psychologically taxing to me. 
Trên đây là tất tần tật từ vựng, bộ câu hỏi mẫu và hướng dẫn trả lời cho IELTS Writing và Speaking Topic Work/Job từ JOLO English mà bạn có thể tham khảo. JOLO chúc các bạn học tập tốt và thành công! 
Nếu bạn muốn nâng cao các kỹ năng cần thiết trong bài thi IELTS nhưng chưa biết bắt đầu từ đâu, đừng quên tham khảo các khóa học tại JOLO English tại đây nhé!
--------------------------------------
Tìm hiểu thêm các khóa học tại JOLO English - Hệ thống trung tâm dạy Tiếng Anh uy tín nhất tại Hà Nội và HCM  :
Hệ Thống Trung Tâm Anh Ngữ JOLO:
Hà Nội: 093 618 7791

TP. HCM: (028) 7301 5555

JOLO: Số 4, ngõ 54 Nguyễn Thị Định, Hà Nội

JOLO: Số 27 Trần Đại Nghĩa, Hà Nội

JOLO: Số 67 Thụy Khuê, Hà Nội

JOLO: Số 7, đường số 2, Cư Xá Đô Thành, Q.3, Tp.HCM

JOLO: Số 2, tầng 1, tòa C2, Vinhomes Central Park, Q. Bình Thạnh, TP.HCM

JOLO: S3.020215, Vinhomes Grand Park, P. Long Thạnh Mỹ, TP. Thủ Đức, TP. HCM