Cùng JOLO English tìm hiểu các Idioms siêu chất và sample answer cho phần thi IELTS speaking part 1, chủ đề 'Friends' bạn nhé!
Xem thêm các bài viết tương tự: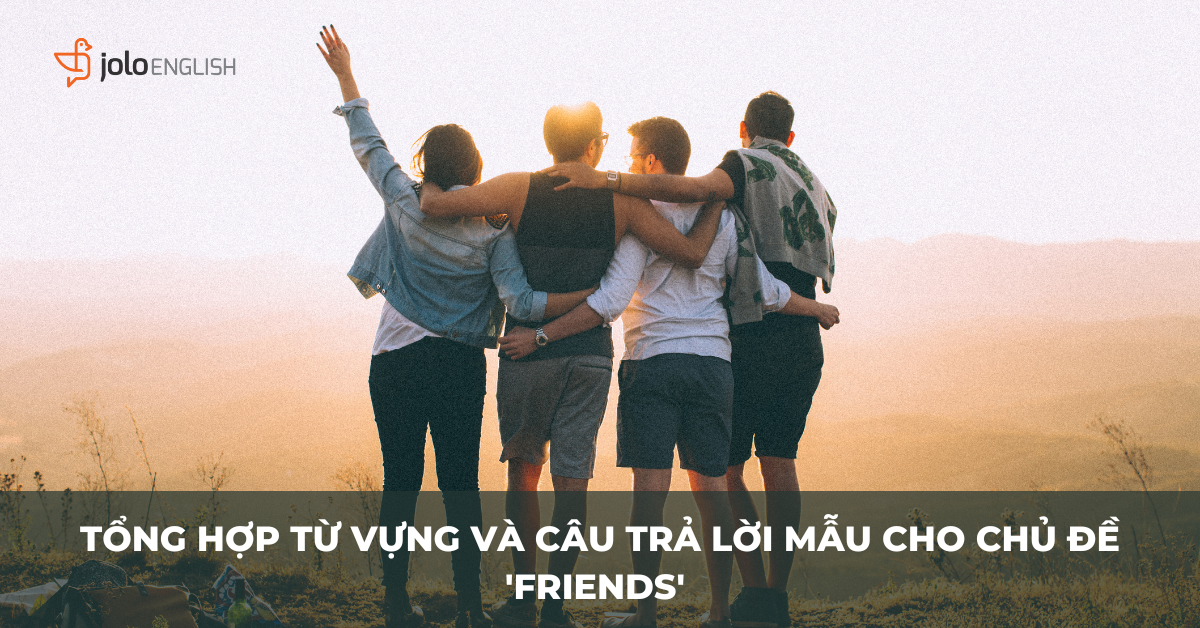 TỔNG HỢP IDIOMS CHỦ ĐỀ 'FRIENDS'
Two peas in a pod: two people that go well together, are very similar to each other - 

Eg: Brittany and Joey are two peas in a pod.

Two speak the same language: to understand someone because of your shared values or opinions

Eg: Sam and Kris speak the same language.

To know someone inside out: to know someone very well

Eg: I know Wesley inside out. There is nothing you could say about him that would surprise me.

To get on swimmingly: to get along very well with someone

Eg: Cove and Parker get on swimmingly. I hope their relationship continues.

To get on famously: to get along very well with someone

Eg: Kaleigh and Peter got on famously. In fact, more than we could have hoped for.

To hit it off: to find yourself immediately friendly with someone

Eg: Sullivan and Lou really hit it off tonight. I would not be surprised to see those two get together in the future.

To bury the hatchet: to bury a conflict

Eg: Julie and Jake need to bury the hatchet and move on! Their rivalry has been going on for years.

To build bridges: to promote friendship between people or groups

Eg: Tammy likes to build bridges, not tear them down.

To be on the same page/wavelength: to promote friendship between people or groups

Eg: Scott and Jo are always on the same page. They just look at each other and know what are the other is thinking

To be as thick as thieves: to be very close or friendly with each other

Eg: Joshua and Jack are as thick as thieves and everyone in town knows it.

Strike up a friendship: to become friends with someone

Eg: I want to strike up a friendship with Erin, she seems like a nice girl

Friends in high places: to have friends who have important or influential positions

Eg: Ethan always brags about having friends in high places.

Close-knit: very close

Eg: Johnny and Casper are close-knit. They tell each other everything. 
SAMPLE ANSWER FOR SPEAKING PART 1 
Q: Do you have many friends? Why/ Why not?
Answer 1: I have more than 10 friends and I am not sure if I should say this is many! However, I had more than 30 friends in my school days. With the passage of the time, the number plummeted. If I count my Facebook friends as real friends, the number would go high!
Answer 2: I have only one friend I would confide in. I'm quite picky and more importantly, I have a somewhat irrational fear that none of my friends really like me and that I'm just a guy they can barely tolerate and it is hard for me to live in harmony with them.
Q: How often do you go out with friends? Why/ Why not?
I meet my friends almost twice a week. I love to spend my weekends with them and sometimes I visit different places, watch movies and discuss different topics with them. I do not go out with all of my friends. I mostly hang out with 2-3 close buddies and go out with them almost 3-4 times a month.
Q: Tell me about your best friend at school
My best friend at school was John and he was a great friend. He was tall and brave. He taught me how to show courage when we are in trouble. He has a great impact on my life. Though he lives in Australia now, we regularly communicate via Skype. I specifically liked him because he was more like a brother than a friend to me.
Q: How friendly are you with your neighbours? [Why/Why not?]
I must say I am quite lucky to have good neighbours who are always supportive and well-behaved. I am quite close to them. We have been living in our neighbourhood for more than a decade and our neighbours have become our close relatives. We have a mutual understanding and an invisible bond that ties us together as good neighbours. I respect their opinion, privacy and try to step forward whenever they need me. 
Q: Which is more important to you, friends or family? [Why?]
To be honest, family comes first. However, there are some friends who become our family members. The bond between family members is often stronger but this does not mean that we do not have friends who are less important in our life. Being with the family makes us who we really are and friends make our life worth living.
Q: Do you think friendship is important?
There is no doubt that friendships play a vital role in our life. They make our lives interesting and wonderful. They help us develop a sense of sharing whether they are tangible things or just inspirational or motivational words of wisdom.
Q: Which do you prefer: to spend time with a friend or spend time alone? (or) How often do you go out with your friends?
It depends. Normally, I'm more of a loner and generally spend more time in solitude than with friends. But when I'm in a bad mood, loneliness makes me feel isolated from the whole world. On those days, I will hang out with my friends so that sad and unhappy thoughts don't come into my mind.
Q: What kind of people do you like to have as friends?
I find myself attracted to people who are honest and who know how to behave with others. I always avoid making friends with people who have a superiority complex.
Q: Do you like face-to-face conversations with people?
Actually I like to talk with cyber friends more than having real-world conversations. I think others observe me a lot, they judge me and hence I become very self-conscious and shy away from speaking face to face.
Q: What do you and your friends do together?
My closest friends and I have a mutual interest in shopping for clothes. So whenever we have time, we will go shopping together until we break the bank. Sometimes when we are out of money, just window shopping would be enough.
Q: Do adults and children make friends in the same way?
Adults use self-disclosure to develop trust and loyalty among friends. This is quite complicated in practice while children usually use common interests and goals as the basis of their friendships. More importantly, kids have a whale of a time with whoever, but adults have to use their time for work and taking care of their family.
Q: Do you think it is possible to become real friends with people you meet on the internet?
Of course, it is possible to establish real friendships through the internet. What you need in a friendship is truthfulness, reliability, empathy, respect and loyalty. If you're getting all that from your online friends then you can consider them as genuine friends.
Highlight Vocabulary: 
Confined in: restricted in area or volume; cramped


Eg: The children are totally confined in the white house for 2 days.
Picky: very careful or too careful about choosing or accepting things


Eg: He is too picky that he has just one close friend.
Tolerate: allow the existence, occurrence, or practice of (something that one dislikes or disagrees with) without interference.


Eg: Her mother cannot tolerate this abnormal torture from her family.
Tangible: perceptible by touch.


Eg: The scheme promised tangible benefits.
Superiority complex: behavior that suggests a person believes they're somehow superior to others.


Eg: The superiority complex of this family is very hard to understand.
Cyber: relating to or characteristic of the culture of computers, information technology, and virtual reality.


Eg: The email was traced by cyber crime.
Genuine: it is real and exactly what it appears to be: genuine leather.


Eg: He has no genuine reason for being absent.
Break the bank: win more money than is held by the bank.


Eg: The heavy downpour broke the bank of the river.
Trên đây là tất tần tật từ vựng và bộ câu hỏi mẫu cho IELTS Speaking Topic FRIENDS từ JOLO English mà bạn có thể tham khảo cho bài thi của mình. JOLO chúc các bạn học tập tốt và thành công! 
Nếu bạn muốn nâng cao các kỹ năng cần thiết trong bài thi IELTS nhưng chưa biết bắt đầu từ đâu, đừng quên tham khảo các khóa học tại JOLO English tại đây nhé!